Editions are printed at MILK Studios, Hollywood. "Archival Pigment Print" Hahnemuhle Photo Rag Baryta 315 gsm paper. Silver Gelatin editions may be available on select Black and White prints. PRICES UPON REQUEST.
Joan Jett: One Of My Favorite Photos, 1978
I took this photo in Joan Jett's dumpy motel room at the iconic Tropicana Motel in 1978. We were watching TV and there was some sort of magic in the room.
Joan Jett: On The Phone With Lisa, 1978
Holed up in the old Tropicana Motel, Joan would eat hamburgers from Dukes coffee shop, watch TV and chat with her friend Lisa on the telephone.
Joan Jett: Joan Stops Traffic, 1977
I saw the sun setting to the west as Joan and I were on Santa Monica Blvd and I asked Joan to stand in the middle of the street. Joan NEVER required any direction. As the sunset, I took this Kodachrome photo. Today this spot looks totally different. You wouldn't recognize it today, but if you like, you can go stand there. It is directly across from 8585 Santa Monica Blvd, where the old Tropicana Motel once stood. Be careful crossing the street!!
Joan Jett: We Ate Hot Dogs & Joan Hit Balls at Flooky's, 1977
Joan and I both hailed from the San Fernando Valley, but we were Sunset Strip kids. The only reason anyone would go back over the hill to The Valley was to hit softballs in the batting cage at Flooky's. I made that drive with Joan and had my camera with me.
Duran Duran At The Riot House, 1982
I had seen photos of Duran Duran in the Japanese and European press before they came to Los Angeles back in 1982. They knew who I was and they were familiar with my style of photographer. So there they were, at The Hyatt House with nothing to do. I made a few shots up a the hotel swimming pool and then we set out on foot down the Sunset Strip. It was Simon who first spotted the classic Lincoln Continental sitting in the parking lot. They all jumped in and I made the photo.
The Ramones At The Corner Of Sunset Blvd & Alta Loma, 1978
Danny Fields, the manager of The Ramones invited me over the Sunset Marquis Hotel to take some photos of the band. I preferred the street so we marched up to the corner on a blazing hot summer day. It was so hot that none of the band could wear their leather jackets. I really miss those guys.
Madonna Meets The Press, 1982
Every year, I always hired by Dick Clark to photograph is American Music Awards. This gave to total access everywhere. While all the press were sequestered in the "Bull Pen", I was free to make a creative photograph of this new singer Madonna. When the photo was published all over the world, the publicist expressed his displeasure. He did not care about works or art, all he cared about was DC Productions logo in every photo. Needless to say, every magazine run my Madonna photo. All over the world!
Michael Jackson: Chasen's Restaurant, 1978
I would run into Michael Jackson from time to time. A photo here and there. He was so approachable back in the day. One day, Michael and I were at a record company party at the legendary Chasen's restaurant. There was tons of amazing fried chicken and chili, a speciality at Chasen's. The party was over crowded so Michael and I got a breath of fresh air on the sidewalk. It was just us and his pal Bill. No paparazzi. Oh, I think there were one or two fans outside. Michael waved to one of them. Sadly Chasen's is long gone. It is now Bristol Farm's, but the sidewalk is sill there. You can go stand there right were Michael once stood so handsome and elegant.
John Travolta and Olivia Newton-John: The Kiss, 1978
I got invited to the party for the film GREASE at Paramount Pictures. Most of the photos were set ups from the PR, but without notice, Travolta kissed Olivia and the rest is history.
Muhammad Ali: KING ALI, 1979
Muhammad Ali was the most recognizable human being on the planet earth. When he sat down in his seat at the Forum for this charity gig, all 18,400 people stood up to applaud him. I love the way he looks like a king in this photo. Seated with him is his wife Veronica, Jerry Buss, Mayor Bradley and his wife Ethel and Former Commerce Secretary Ron Brown.
Half The BeATLES: The Key To On The Rox, 1976
I lived right around the corner from The Roxy night club back in the day. Bob Marley was playing a sold out gig at The Roxy and it was the hottest ticket in town. My friend Michelle Meyer was working in the box office and gave me a tip that Ringo Starr was on the list and the rumor was that John Lennon was in town. Gossip traveled very fast back then even though there was no internet. The idea of getting a photo of half of The Beatles was very exciting to teenage me. The tip paid off and there was Ringo inserting his key to the private night club On The Rox. Very few VIP's had that key, but Ringo was one of them. The rest of the crowd had to press the button on the intercom and beg for entrance.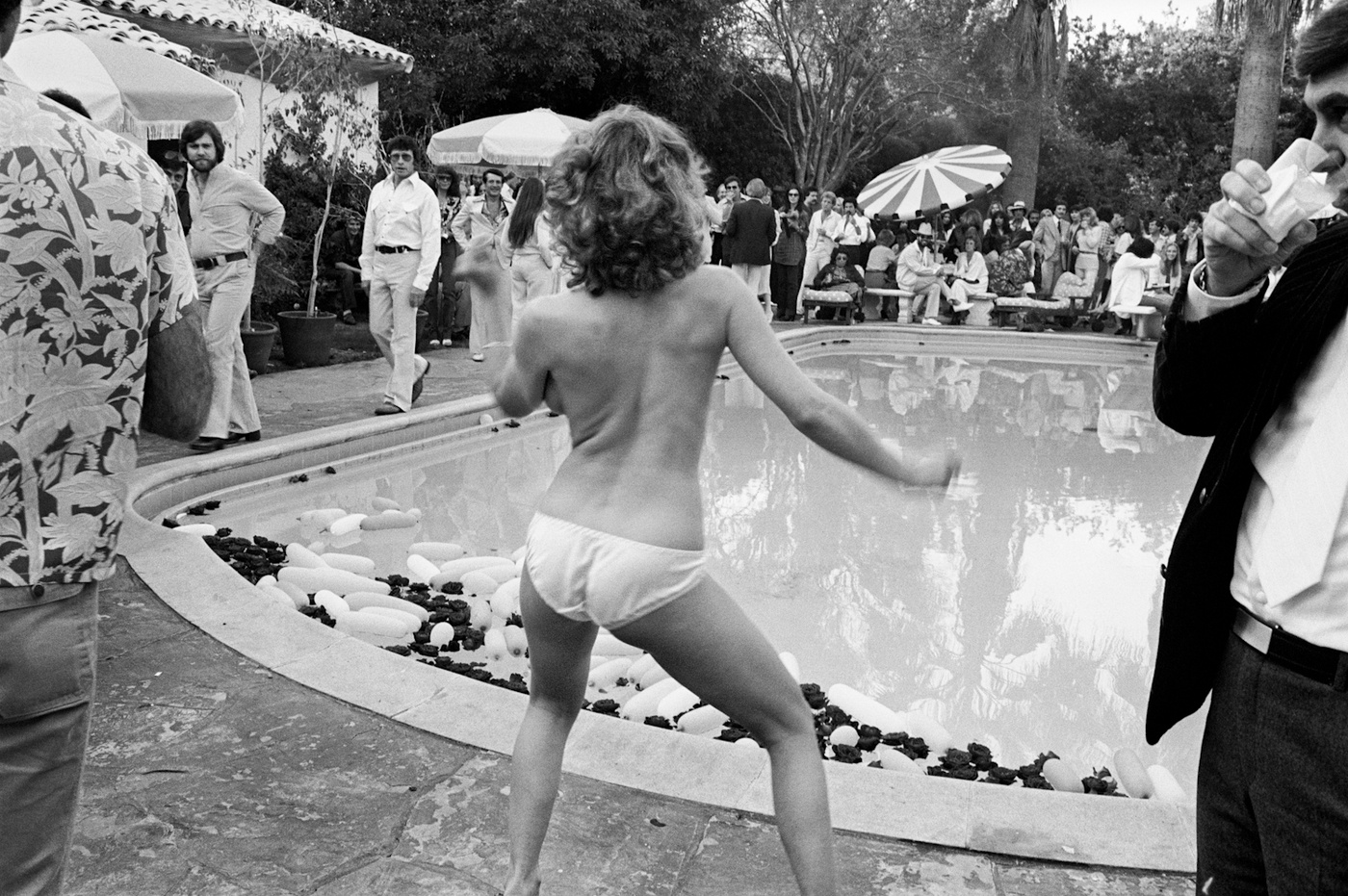 A Beverly Hills Party To Remember, 1977
I think John Rockwell invited me to this party. It took place at a large mansion directly behind The Beverly Hills Hotel. I was the youngest guest. Not even old enough to drink. Right before I spilt, this girl came out in front of me and took off her clothes and started to dance. Look closely at the guy on the left walking over to the girl, that is Burt the party crasher. He was legendary and never missed a party!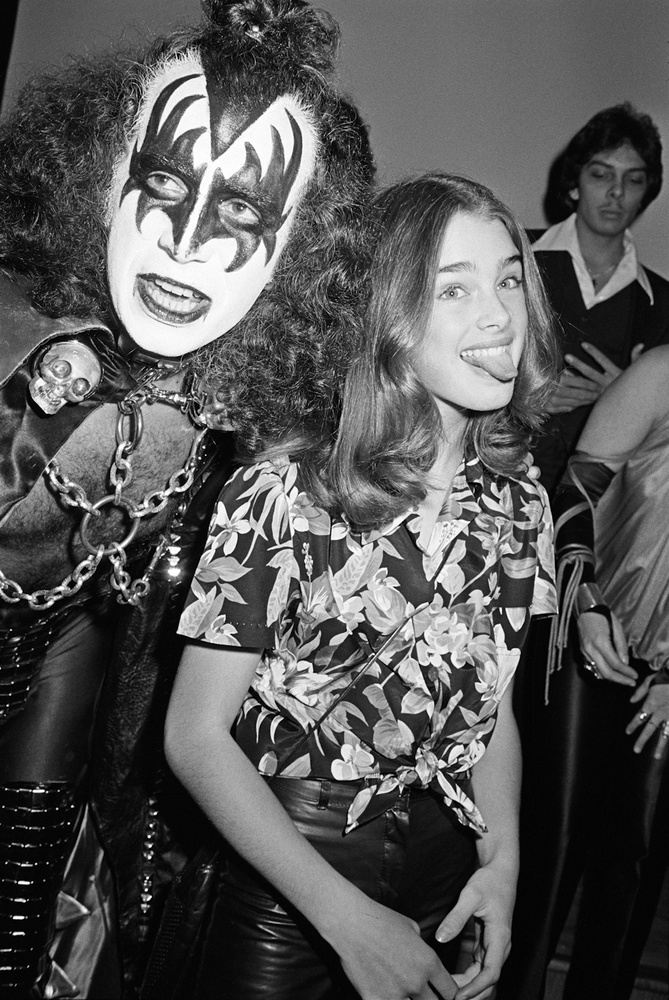 Brooke Shields Sticks Out Her Tongue in Beverly Hills, 1978
I was a bit horrified when thirteen year old Brook Shields stuck out her tongue next to Gene from KISS at the Fiorucci Blondie party.
David Bowie: This Photo Changed My Life, 1975
I wanted to take a photo of David Bowie in the worst way. I called his publicist for a photo pass, but I was turned down. Bowie permitted only a handful of photographers to take his photo and teenage me was not one of them. . My friend Michelle Meyer told me that Bowie was having an all night recoding session at Cherokee on Fairfax and that he leaves around 6am every morning. What did I have to lose? I got there just before the sun came up and a few moments later he walked out the door looking so stylish and cool. The guy behind Bowie is the legendary record producer Paul Buckmaster. Bowie did not say much, except " Good Morning". The whole event took place in about 22 seconds, but it seemed to go on forever and I knew that it was something special. The photo was published everywhere and the funny thing is that the local PR and record companies all embraced me for having the insight and balls to make the photo and was plastered all over the world. I was on my way!
Matt Dillon: In My Living Room, 1980
Super Teen Magazine in New York asked me to do a photo shoot with Matt Dillon. He was a brand new movie star and I thought he would be a great subject. His manager Vic drove him over to my house and I took the photos in my living room. Matt changed his shirt a bunch of times and I shot everything on Kodachrome.
I drove out to the San Fernando Valley to make some photos of Cherie Currie for The Runaways record company. When I got to her home, there was her twin sister Marie and Vicki Razor Blade from the band Venus And The Razor Blades. History was made!
Editions are printed at MILK Studios, Hollywood. "Archival Pigment Print" Hahnemuhle Photo Rag Baryta 315 gsm paper. Silver Gelatin editions may be available on select Black and White prints.